Gota Patti Earrings With Pink Pom Pom For Women & Girls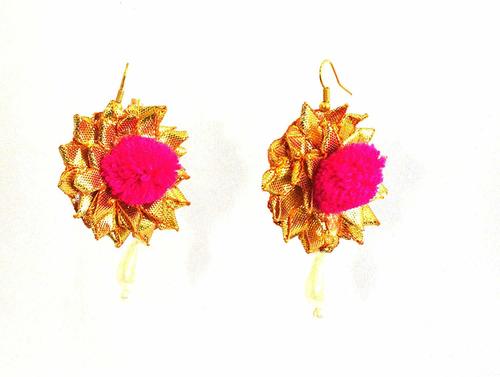 Gota Patti Earrings With Pink Pom Pom For Women & Girls
Product Description
Gota Patti Earrings With Pink Pom Pom For Women & Girls (Mehandi/Haldi/Bride/Wedding)
Best quality and light weight jewellery for women.
Disclaimer: If you purchase from any other seller selling our products or giving offers on our listing is solely your risk. Many of our customers faced skin problems, marks and rashes by ordering jewellery from these fake sellers and they reported this matter to us. Floret Jewellery is the authentic and trusted brand for jewellery worldwide. Please be aware.

Floret Jewellery is the one-stop-destination for the finest flower jewellery in India and overseas. Here, we believe that jewellery need not come with heavy price tags but with exceptional quality and durability. We are extremely happy to be serving thousands of customers across India and satisfying them with our unique designs that are not available anywhere else. Also, each jewelry is made very light weight so that you can wear it for hours. Each piece at Floret Jewellery pass through 10 hands for quality check before it gets delivered at your doorstep. Our team based in Rajasthan beautifully carves the metal, kundan, beads, pearls in Rajasthani colors and polish them with a touch of legacy and royalty.